Do you have sewing talents that you can bring to the table? Meet us at Sew for Peace to make children's clothing from scratch! The clothing made by this group is sent locally, nationally, and internationally to those in need. In addition to clothes, we make blankets, scarfs, hats, mittens sets, cloth bags, and pandemic masks.
Thursday at Nine AM
The Sew for Peace group meets every Thursday at 9am at the church, except for a month break in the summer. It finishes the Thursday before Thanksgiving and resumes the first Thursday after the New Year.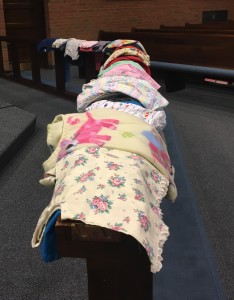 Click here to enjoy this special WPFG radio segment about Sew for Peace, aired 6/12/23, at wpfgfm.org
We are grateful for the monetary contributions to Paxton's Memorial Fund that were made in memory of Cecilia Sevon, one of the founding members of Sew for Peace.
To volunteer your talents or donate supplies, please contact Dotty Sellers at 717-564-9492.
Mission Statement

: Sew for Peace is an outreach ministry of Paxton United Methodist Church that shares the love of Jesus Christ by sewing clothing for young children and toddlers who are victims of poverty, violence, or weather-related disasters here at home and abroad.